Blond twink Julian Bell has been a bad boy purposely in hopes that hot, heavy handed Johnny Hands notices his naughty ways and will deliver the appropriate punishment. Bell has been waiting patiently outside Mr. Hands lusty lair tied up with red rope and ready to get raunchy.
When Julian can no longer take the sexy suspense, he cums begging at the foot of Mr. Big Hands bed. Johnny finally gives the gorgeously smooth blond boy AND his amazing ass complete cock stretching, ass worshiping attention. Since Bell has already tied his tight twink frame up half way, Hands hogties the hottie's undone ankles to his wrists, leaving his hot hole up and ready for play.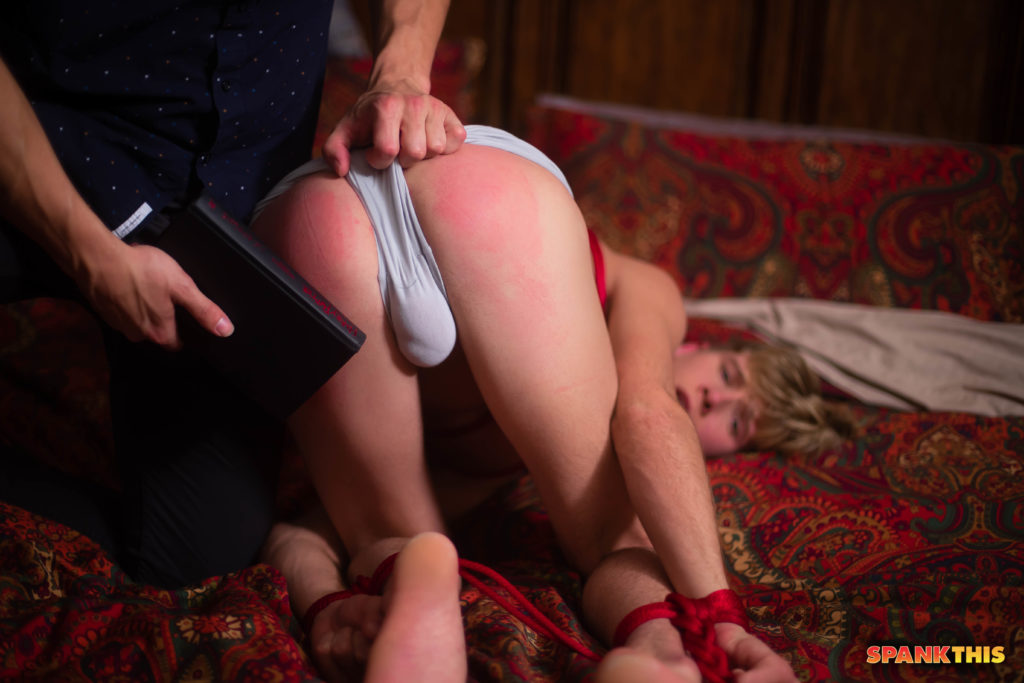 Never one to miss an opportunity, Mr. Hands starts Bell's booty beating with the book he was reading before Bell came begging . After putting those hard covered pages to good use, our ass master moves on, cracking Julian's juicy plump posterior with a riding crop which turns the twink's tush a tasty crimson red. Bell moans, absorbing every moment of the butt beating with painful pleasure. After completely controlling Julian's junky trunk, Hands sits back on the bed like the boss he is, leaving Bell booty up at the foot of his bed like a porny pet puppy at his master's mercy.