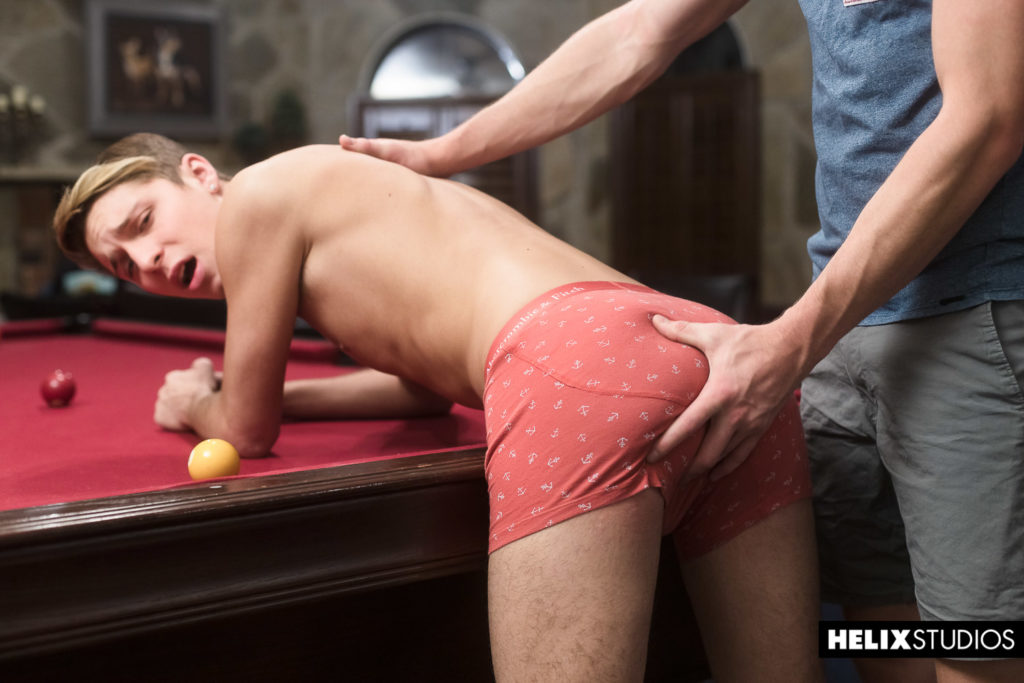 It's boys night, and all your favorite twink fuck and spank stars are chinning in the game room. Jacob Hansen accidentally unplugs the Pac-Man machine when Travis Stevens hits the high score! There's hell to pay! PUBLICLY!
Travis bends him right over in front of all his buddies for a butt spanking beat down that carries over from the video game to the pool table – during the middle of a game!
Not looking to spoil Travis' rear end revenge, porn star pool players move towards the video games, and the epic seat smack continues. Adding insult to injury, Travis tells the tight-tushed twink to take his pants down! He replies, "in front of everybody?" Jacob complies and drops trou, exposing his beautiful bubble butt, clad in raging red boxer briefs!
Travis goes spank happy, quickly getting Hansen's hot behind to match the crimson color of his drawers. Travis beats and berates that beautiful bastard in front of his boys. For one final indignity, Travis orders Jacob to remove his underwear.
The red-assed twink does as he's told, and the porny punishment continues.
That's not all! Travis pushes the pretty boy into the corner, whips out his cock, and fucks the hell out of Hansen's face! Travis rough houses himself one hot hummer, peppered with more spanking, then shoots a king-sized shot of cum to the face!
Hot…. as…. FUCK.