Tristan Adler is up to no good and lookin' for trouble! He interrupts hair trigger tempered Travis Stevens by crunching on nachos! The blond Adonis grabs the little mischief maker, hikes him over the couch and bends him over his knee. The sexy strong man has no mercy, spanking Adler's ass with big open handed swats. Tristan doesn't learn easy.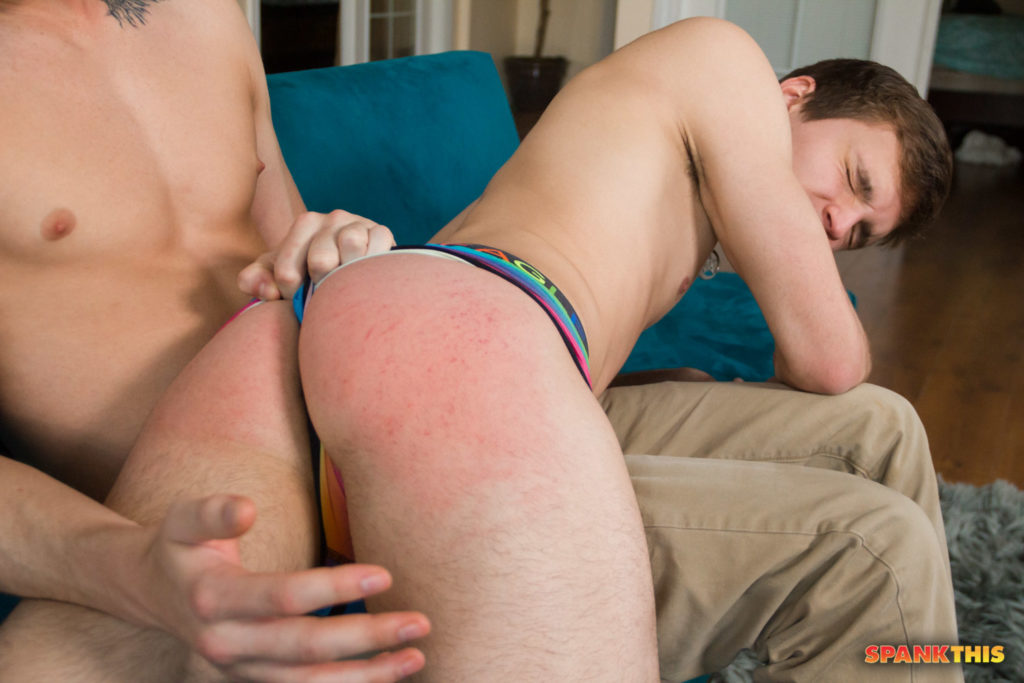 The mouthy boy keeps talkin' smack, which only amps up Stevens back seat slaps. Travis pantses the pretty boy and takes his shirt off to really lay into the dude. His ripped muscles flex with every spank to Tristan's reddening rump; and, tough Adler keeps protesting, we're quite certain he loves every second of his porny punishment. Having the muscled hottie tan his hide excites Adler is a way he never knew, and he has no issue getting fully naked for the cherry cheeked climax.
An amazing ass smacking symphony fills the air, and the sting of Stevens hand hurts more than Adler anticipated. He squirms to get away from the hunks heavy hand. Our blond butt boss grabs him for a few final hard wacks. Travis only lets the lad up when he's good and ready, then he sits back with a sexy, satisfied smirk.