And, Johnny has one HELL of an appetite! Once inside his immaculate pleasure palace, Hands allows his gorgeous guest (who's been kneeling on the floor for hours as instructed) to turn in for the evening because the master has work to do in his bedroom. Johnny enters to find house boy Hayes bent over and tied to the bed exactly where he left him. He reminds the jealous, juicy bootied boy to hold his jealous tongue when fresh faces get invited into their erotic arrangement.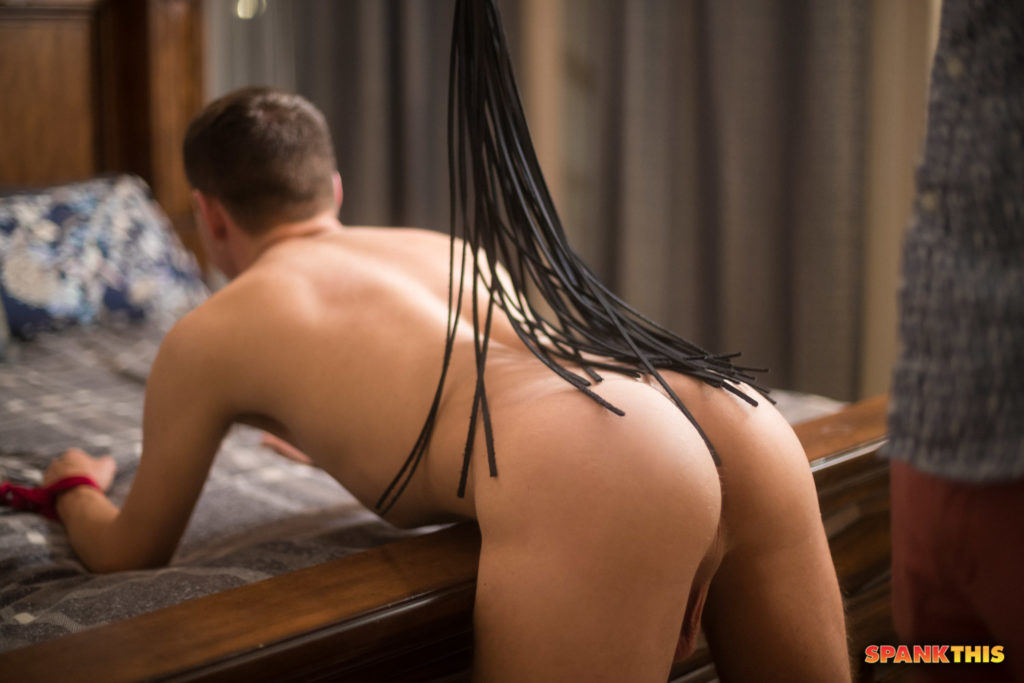 Then, Dylan's fuck master flogs his fat fanny and a rough, raunchy rhythm thumps through the air with every single, thickly muscled, butt smack Dylan endures. The black leather swatting the boy's booty, which is clad in cock stiffening tight, dark black briefs is banged out beautifully; however, Hands is hellbent on teaching his lad a lasting lesson. He slowly cuts off Dylan's dick hugging undies and reaches for a fire-red cat o' nine tails and drags it across Hayes horny flesh, bracing the boy's beautiful backside for the ferocious flogging it's about to endure.
The master uses both erotic instruments of pleasurable pain at once, multitasking Dylan's tight, meaty mounds of flesh in an epic double flogging. He even puts the hard handle to some salaciously, sexy use. Hands lays both derriere discipline tools down on top of his boy's back in an "X" formation. Then, he leans down and whispers a reminder in Dylan's ear, to absolutely never forget his manners ever again.